AUTOMATIC CONTACTLESS DISPENSER FOR HYDROALCOHOLIC SOLUTION
Our automatic dispenser for  hydroalcoholic solution is a contactless device that delivers the right dose of hand sanitizer to each user. Essential in the fight against the Covid-19 epidemic, these devices can be placed at the entrance of places open to the public and left available to visitors. However, it is useful to specify that the vending machines dispense hydroalcoholic solution, not gel. Both products are biocides, used for disinfection. They are proven to be effective against bacteria, viruses and fungi. Both can therefore be used as part of the usual sanitary measures against viruses, including Covid-19. However, the hydroalcoholic solution has the advantage of being more fluid than its gel counterpart. It is therefore more suitable for use in vending machines, as it can easily be sprayed. Discover also our hydroalcoholic gel in bulk.
o
Our range of automatic contactless hydroalcoholic solution dispensers
Automatic contactless dispenser for hydroalcoholic solution
How does our automatic contacless  hydroalcoholic solution dispenser work?
When the hand passes in front of the infrared sensor, the automatic detection system sprays a dose of hydroalcoholic solution directly on the skin. The device will thus deliver a dose of 0.5mL, sufficient for the total disinfection of the hands. The dose delivered is nevertheless adjustable up to 1mL. Its refill system has a level gauge visible from the outside, and is locked by a key lock for added security.
What are the advantages of the automatic contacless hydroalcoholic solution dispenser?
The device works autonomously and can be left at the disposal of your visitors and employees. It automatically delivers the precise dose of product required for hand disinfection without contact. Since 2020, sanitary measures have been a significant item in the corporate budget. This type of floor-standing automatic dispenser ensures substantial savings, as it prevents users from over-consuming virucidal products. In addition, its automatic operation, using an infrared sensor, allows for touch-free use. Manually activating a collective pump bottle in a public place may seem counterproductive in terms of hygiene. Practical and reassuring, this contactless device ensures perfect disinfection without any risk. Its speed of treatment is also a considerable advantage in case of intensive use. In optimal conditions, each refill can indeed distribute an individual dose to 1200 people. It is therefore particularly suitable for use in high-traffic areas.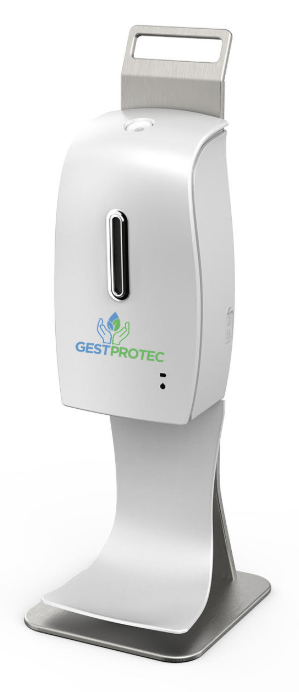 How to use a hydroalcoholic product with our automatic contactless dispensers?
Previously reserved for the medical sector, hydroalcoholic gels and solutions have become part of everyone's daily life thanks to their ease of use. Without rinsing, they allow the disinfection of hands without washing with soap. For an optimal bactericidal and virucidal action, some instructions must however be respected, otherwise its effectiveness against viruses and other germs will be considerably reduced. A dose of 0.5mL should be spread over the entire surface of the hands. A 30 second rubbing will completely disinfect the hands. Caution: palm to palm movements are not sufficient. It will be necessary to act on all skin surfaces: the interdigital spaces, the backs of the hands and fingers, the thumbs and the fingertips. This alcohol-based product is volatile and will evaporate as you rub it in. At the end of the 30-second procedure, the hands are dry and properly disinfected.
o
Mistakes to avoid: How to disinfect your hands correctly?
First of all, it is essential to spread the product over the entire surface of the skin, otherwise germs may be left intact in certain places. The application should not be limited to the palms of the hands. Also, application alone is not enough. It is the rubbing action that makes the product effective. The 30-second rubbing time must be scrupulously respected to allow a bactericidal and virucidal action. It must also be used on dry skin, and free of any dirt. The hydroalcoholic solution cannot therefore entirely replace washing with soap and water. It is a complementary hygiene solution, in particular for disinfecting hands in the absence of a water point thanks to its non-rinse action. The product should not be used after the expiry date shown on the packaging, which is 24 months after manufacture for the GESTPROTEC® 2-in-1 hydroalcoholic solution. As with any alcohol-based product, care should be taken when using it, avoiding rubbing the eyes and exposure to the sun. Similarly, pets do not need to be disinfected. The application of hydroalcoholic gel is dangerous for them, and is therefore totally forbidden.